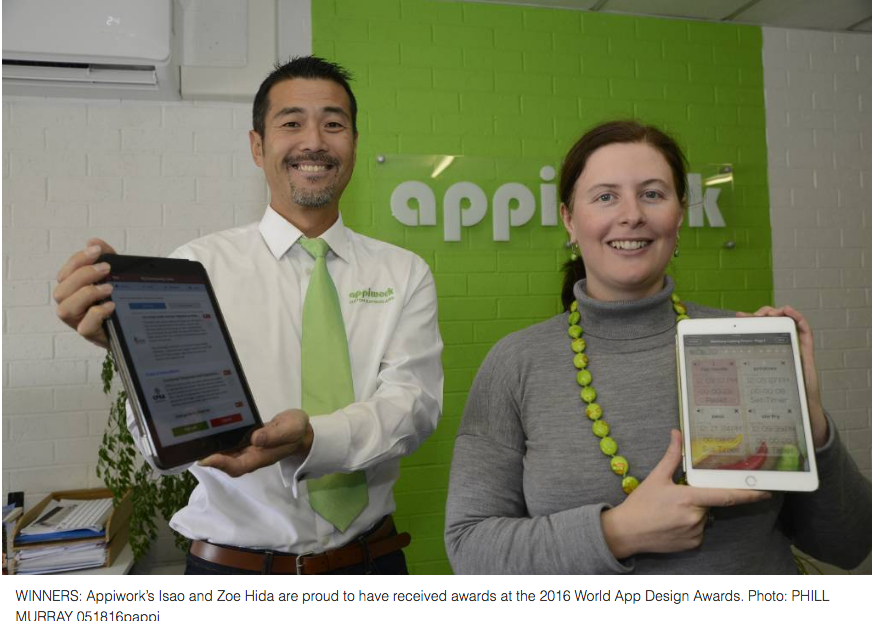 Appiwork is a privately owned, Australian software company that specialises in native mobile application development and web services.
We are very proud to be:
Best Studio – Small – 2016 World App Design Awards. The best studio/development house that consistently achieves excellence in app design. Winners are awarded according to the body work submitted across all categories and the overall rating score. 
At Appiwork, we believe in creating simple, elegant solutions for complicated problems. We do this by developing mobile apps, websites and online systems that are custom-made to perfectly meet our customers' needs.
Our corporate customers tell us that our products deliver quantum leaps in efficiency. Our entrepreneur customers say we make their app dreams come true. Talk to us today to see if we can help you too.
Our mobile apps, web services and  responsive websites are expertly designed to be reliable, helpful and easy to use on iOS, Android and Windows platforms.
We help businesses to be more efficient, competitive and profitable by introducing mobile services into their operations and key customer interactions. Using cutting-edge development technology, expert project management and proven marketing techniques, we help transform time-consuming, complicated and tedious processes into helpful and enjoyable experiences for customers, staff and other key audiences.
We love working with entrepreneurs to design, build and operate app and online businesses. Our proven methods of business analysis, concept testing, system architecture, beta testing and product launching give our app entrepreneurs the very best foundations to create profitable businesses.
Risk management and quality assurance is an important part of our work and something we do very well. Our approach to functional design ensures that we develop all products to the exact specifications required by our clients. All applications and websites undergo thorough beta testing on numerous device types and operating systems to ensure they perform exceptionally well.
Founded in 2013 and based in Bathurst NSW, Appiwork is a fast growing regional business that and employs local project managers and customer service staff and off-shore project teams.
Our management approach fosters an innovative and entrepreneurial culture among staff. These, together with a fierce commitment to integrity and excellence are key drivers of Appiwork's success and award winning apps.