YourLink – connecting seniors with life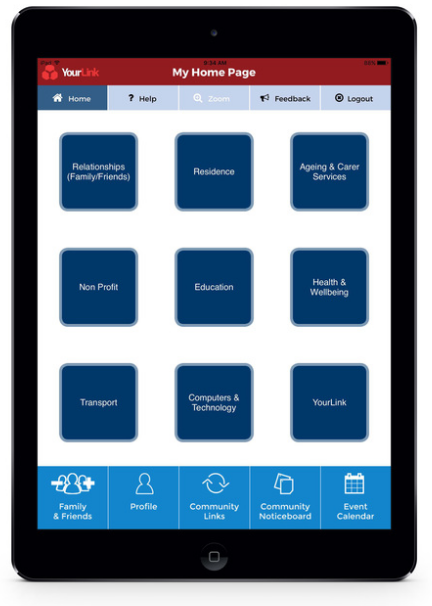 A new social network and community resource for seniors.
Gold Winner in 2016 World App Design Awards
Finalist in 2016 CeBIT Australian Business Technology Awards.
Available on iTunes for iPad.
Opportunity
As a community, we are trying to find ways to overcome the issues amongst seniors including isolation, depression and disconnection, particularly in regional and rural communities.
Imagine the impact on our older community members to easily tap into what is going on and re-energise their lives through participation?
Solution
YourLink is a simple and tailored app that will connect seniors with life.  It brings the many great services, organisations and activities available for seniors in the local community to the finger tips of the older community and their families.
With YourLink seniors and their families can:
Find the latest information, events and activities happening in the local area
Message family and friends in a safe and easy to use environment
Link into social or interest groups
Quickly access chosen services and interests from a personalised, easy to use home page.
The graphic user interface and supporting collateral was designed by Joel Spencer Design (JSD) and system architecture and development was delivered by Appiwork for YourLink Pty Ltd.
Praise for the app
"YourLink is an innovative, responsive solution developed out of love to meet an identified need. It helps reduce social isolation for older Australians and their carers by connecting them to their region's activities events and services. A great simple resource and a great service! A must to connect all!" Elena Katrakis, CEO Carers NSW.